Interview with Ryan Bricker, Project Manager
Sierra View built Cornerstone Dental in Folsom, CA for 4 dentists operating in various specialties including standard dentistry, endodontics, orthodontics, and cosmetic dentistry. The wide range of specializations required unique designs for each of the four suites populating the 2-story, 14,231 square foot structure. The project started in May 2015 and was completed in April 2016, thanks in large part to Ryan Bricker's exceptional leadership and project management.
Ryan has been an integral team member here at Sierra View for more than 10 years. He has a total of 17 years of experience in varying construction positions. Ryan has extensive knowledge of a wide range of project types, including medical facilities, retail, restaurants, wineries, and much more. His reflections on the Cornerstone project provide insight into the intricacies of project management for this type of structure.
What type of build was this project?
Cornerstone Dental was a ground-up Design-Build project.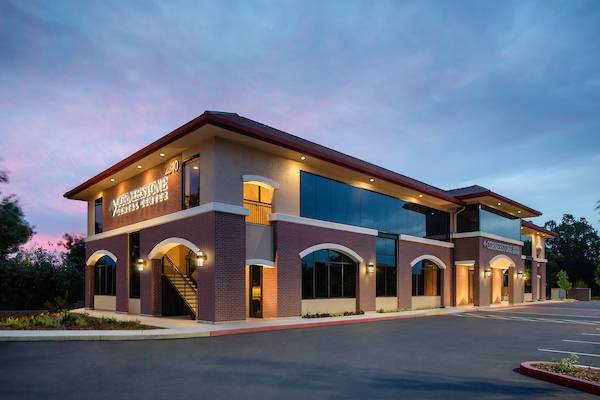 What was your role in the Cornerstone project?
As Project Manager, I handled all the scheduling, contracts, change management, submittal, RFIs, meeting minutes, billing and customer service duties related to the project.
Dentistry and construction are very different areas of expertise. How did you communicate and understand the needs of your client?
With years of experience in the dental field, I have learned to ask the right questions, such as what equipment they are using, whether the doctor is right- or left-handed to know where to set up their equipment, and if they are using gas and air, as this information is needed for rough-ins. Learning the right locations for equipment is key to fulfilling clients' needs and wants in their work space and facilitating smooth daily operation. I set multiple meetings with the client and subcontractors to ensure we met their expectations before construction started.
Did you learn anything new from this project that will be beneficial for future medical buildings?
I learn new things on a daily basis that will benefit me on future projects. This particular project taught me that working with 4 different clients at once takes a great deal of special attention. Note taking is key. Keeping track of each client's requests turned out to be more challenging than I expected.
How involved were the doctors in the design process for their respective suites?
All 4 doctors were very involved in their design processes. We held weekly meetings with each doctor. They all wanted to make sure that their utilities were in the proper locations, and as the project continued they wanted to make sure that their finishes matched their vision.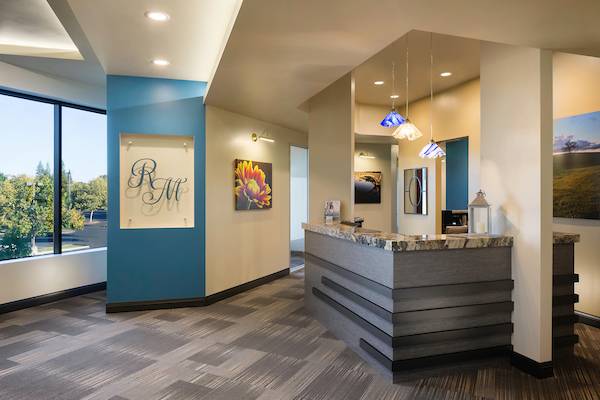 Is that amount of involvement typical for this type of client?
It is above typical. Each doctor had many changes they wanted to make, and keeping track of 4 doctors at once is not an easy task.
Sierra View has built several different types of medical facilities for a wide range of doctors and clients. How was the Cornerstone project different from others?
Dealing with 4 different clients at one time versus 1 client set this project apart from previous medical facilities we've built. Each doctor had a different personality and different requirements, so it was a lot like building 4 separate projects at once
Dental work can be very stressful for patients. Did the interior design team take this into consideration when styling the suites? If so, how did they create a calming atmosphere?
Yes, the interior design team took into consideration the patients when designing the interior spaces. Each suite has unique calming features, ranging from a spa-like feel, all the way to fun, colorful spaces to make young patients feel at ease.
Sierra View partnered with Borges Architectural Group on this project and several others including an oral surgeon's office. Does it make a difference which architect is used on these medical projects?
Yes, an architect with medical project experience is key in making a project run smoothly and on schedule. It helps to have an architect that knows and understands the doctors' wants and needs: things like how to properly set up dental sterilization and operatory rooms. Utility and furniture locations play a big role in how their operations run on a daily basis.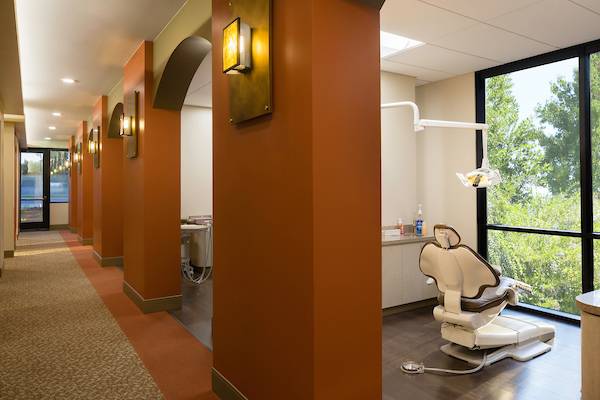 What are some common considerations you must always address for medical facilities?
There are a lot of common considerations; the most important is understanding what type of equipment being used, to make sure that everything is set up for comfort and utilities are easily accessible. This is important for any medical project.
What were some considerations you had to make for this project in particular that were outside the norm?
How to juggle my time when working with 4 clients at once on a single project was the biggest consideration. Every project is different and has unique obstacles that are out of the norm. During this particular project we had a lot of changes when it came to the finishes. The doctors wanted some things changed from the designs the architect had specified and approved in the submittal process. This is out of the norm because usually the approved submittal is based on the client's' finalized specifications. When it changes, it can create time delays and extra cost.
What were the most difficult tasks you had to address during the Cornerstone build? How did your team successfully complete them?
The most difficult task was making sure the client's specifications were met when the drawings weren't exactly correct at the time. We successfully completed these tasks by having weekly meetings and an open line of communication throughout the project.
Overall, Do you feel this project met the client's expectations?
Yes I do feel it met each client's expectations. Sierra View prides itself on making sure our clients' expectations are always met or exceeded.